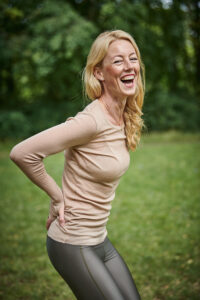 Malou Deichmann is the founder, owner, and driving force behind Neuromuscular Workout.
She has developed a deep passion for solving the puzzle of the human neuromuscular system – through education and professional experience.
Her goal is to share her knowledge and experience with everyone who wishes to develop and maintain a physically active life style.
In her two decades of professional experience Malou has worked with numerous clients whose goal was to postpone, or even avoid, surgery. She has also worked with clients on pain management from former injuries, stress or muscle tissue tightness, and physical imbalances by approaching the whole body, and the dynamics between body and mind.
The aim is always to develop an individualized program, focusing on your specific needs and goals, and to organize a plan that will help you achieve a strong and balanced body, in sync with its neuromuscular system.
"I was born in Copenhagen, Denmark 1977 and I live and work in the city.

In 2005 I finished my education as a nutritionist with a thesis about the link between a specific fatty acid and BMI within a younger population.

As I finished I started working as a health writer for various newspapers and magazines and became the editor of a running magazine.

I later on published a book in Danish directly translated called "Strong spine in 10 minutes". It was published in 2017 by the publisher Gyldendal.

In my twenties I was running long distance in a Copenhagen based Athletic Club called Sparta and when I stopped competing I became a pace setter for others. I stopped competitive running due to injuries and started studying first running injuries and soon I was studying injuries in the musculoskeletal system in general.

During these years I also took an additional education within the Pilates System and I became a Pilates instructor that included all the original Pilates machines, small props and the founding principles behind the system.

For many years this was my main toolbox for instructing clients.

But my curiosity went beyond Pilates and I have since studied running medicine, injuries from a medical point of view, anatomy, biomechanics and movement ideas and systems like, for example, strength training and mobility training.

Despite all the education, I work freely of any system. My experience with my thousands of clients weighs more than any course I have taken.

I learn every day from clients and I study and talk to others with experience. I read books and articles on the relevant subjects and I care greatly that no stone is left unturned when it comes to making a human being feel physically capable and strong for the rest of that person's life.

I'm an entrepreneur and besides the facility, where I instruct clients with my methods I have also founded the Neuromuscular Workout App and the Neuromuscular Workout method.
CV
Background Education
Professional Bachelor in Nutrition and Health, January 2005. Thesis title: 'Association between CLA and obesity'.
Primary Pilates Accreditation
Diploma from Copenhagen Pilates Studio in theory of equipment and teaching practice, 2008.
Stott Pilates, Certified Instructor in Matwork Level 1 and 2, together with Reformer Level 1, 2009.
Secondary Pilates Accreditation
BASI Pilates Comprehensive Teacher Training Course 2014.
Courses
Balanced Body, Anatomy in Three Dimensions, 2013.
Madeleine Black, Sole to Spine, 2014.
Balanced Body, CoreAlign 1, 2014.
Elizabeth Larkam, PMA-CPT, Fascia Oriented Training in the Contemporary Pilates Environment 2014.
PMA, Pilates Method Alliance, San Diego Conference 2014.
Karen Clippinger, Sacroiliac Function & Pilates Program Design 2015.
Karen Clippinger, Shoulder Mechanics, Alignment & Pilates Program Design 2015.
Karen Clippinger, Hip and Knee Biomechanics, 2017.
Mountain Land Running Summit, 2017.
Mountain Land Running Summit, 2018.
Mountain Land Running Summit, 2020.
Pelvic Health Summit 2022.
Mountain Land Running Summit, 2022.
Working life
Founder of the training concept "The Neuromuscular Workout method", located in Copenhagen, Denmark, since 2020.
Founder of the training concept "I Will Run", located in Copenhagen, Denmark, since 2018.
Former partner and consultant specializing in running for Copenhagen Pilates Studio, 2009 – 2018.
Former permanent instructor specializing in rehabilitation and running for the Danish Wounded Warriors Project, 2014 – 2018.
Health, nutrition and exercise specialist writer for Politiken, Børsen and Egmont.
Writer of "Strong spine in 10 minutes" For Gyldendal.